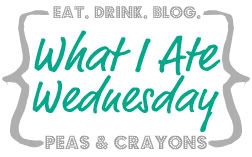 What I ate Wednesday is hosted by
Peas and Crayons
head on over to here awesome blog and to see all of the other WIAW posts. You can get so many ideas, but beware you will leave the page with some serious food envy.
Breakfast - La Tortilla Factory Tortilla (seriously AHHHHHHHHHHMazing!) I love those things! Egg whites, spinach, mushrooms
Lunch - Spinach salad with Strawberries, walnuts, and Raspberry Vinaigrette + (more) egg whites, black beans, fresh salsa (I made it, it's delish!), and another La Tortilla.
After Running/Pre Strength - Protein shake w/ Chocolate Protein powder, 1/2 frozen banana, strawberries
Dinner- - Crockpot Taco Chicken (easiest thing in the world, boneless skinless chicken breasts + packet of taco seasoning) Roasted zucchini and yellow squash, black beans.... salad (not pictured).
***not pictured the copious amounts of peanuts and almonds I eat every time I walk by the pantry... and plain 2% greek yogurt before bed, while watching LA Complex.
I eat a lot of salad. I eat a salad with dinner every day and with lunch most days. I really really like lettuce! I eat basically the same food every day. Well Mon - Fri anyways. I think next week I will do a weekend day... one that includes a splurge! I work from home which is nice as far as food goes, but I'm still always crunched for time. I don't like to do a ton of food prep... (I'm not huge on left overs) Egg whites take like 2 minutes to prepare and I adore them so yea I eat them for at least 2 meals a day most days. Same with salad.
Question?
Do you love egg whites? Do you eat them?
I LOVE them!!! I will never ever get sick of them, they are the only thing I ALWAYS look forward to eating!